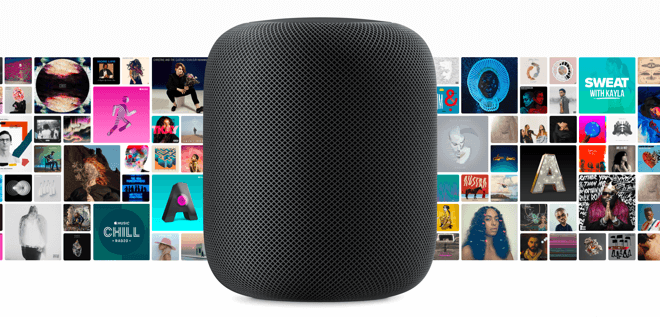 HomePod is not large enough to hide Siri's flaws
Apple released its smart speaker, HomePod, on Monday.
Not a big surprise: We were expecting them to. I was surprised by the angle they used, though, to sell it during the keynote. They really made it about music: Access to Apple Music, great sound, and its ability to understand where it sits and optimize its settings.
The language used on the HomePod page reinforces this: "The ultimate music authority…" Their use of the term musicologist is infuriating to some people I follow on Twitter (I think that Spotify used to call playlist curators musicologists, too).
With Siri intelligence and access to virtually all the world's recordings, it's like having a musicologist who helps you discover every song you'd ever want to hear.
Who is this for?
Apple seems to be appealing to a very unique (?) demographic: People who care enough about sound quality to shell out $400 (digital audiophiles?) but don't know much about music.
The HomePod page features a few queries that really reflect that:
If you ask Siri to play some hip hop, how much do you know—or care—about hip hop? Is everything pretty much the same? Or are you really leaving it up to the musicologist?
Why are they pushing HomePod this way?
I can think of a couple of possible reasons:
Because others haven't focused that much on sound quality
Arguably, Amazon's Echo and Google Home don't sound great. So that's an easy way to appear unique/better. But if one really cares about audio, connecting to a good set of speakers—even Bluetooth speakers—would make a big difference.
Because they need people to subscribe to Apple Music
Apple Music is not making a lot of money, and I'm sure that they see HomePod as an opportunity to really push their streaming service, t0o.
Is their AI (for music discovery) strong enough to compete with Spotify or even Pandora?
Because their AI is weak
Siri is not great yet and people know it. They can't really push the smart aspect of HomePod because it's not that smart yet. Even the Chinese translation example used during the keynote was really unimpressive if you've ever played with Google Assistant:
Siri is just SO GREAT #wwdc2017 pic.twitter.com/fD5fTMlSOe

— Catt Small (@cattsmall) June 5, 2017
Google is labelling itself an "AI First" company and Apple is nowhere near for now.
Watch the I/O 2017 keynote hosted by Sundar Pichai (CEO of Google Inc.) to see how far they went already:
https://youtu.be/iDQihBEcTzU
A challenge for smart speakers
Regardless of which speaker and streaming service you use, metadata remains an issue—especially in classical music.
A lot of classical (dead) composers have comprehensive catalogs that one can use as shortcuts to specific works: Saying "Hey, Google! Play Bach's BWV 140!" is much easier than asking for Wachet auf, ruft uns die Stimme.
But that's not true for other genres and it is sometimes frustrating to ask for very specific pieces/albums to Google Home (the smart speaker I chose).
Thankfully, Google is better positioned to tackle this issue than Apple.