Friend, Do You See Yourself in These 10 Attributes? 🙃
SENT ON November 12, 2021
C reators are living paradoxes. They literally defy expectations: Ancient Greeks added the prefix para- ("beyond" or "outside of") to the verb dokein ("to think") to form paradoxos: "contrary to expectation."
And although I think that as creators, we know that to be profoundly true, is the rest of the World at ease with the idea?
My best friend, growing up, lived across the hallway of our tiny apartment building. It was so small that we could install an electric toy telephone whose cable went from his bedroom to mine (remember wires?) We both had a vivid imagination and cracked jokes 24/7, but he was forgetful. As a result, I remember that our families labeled him a poet to say that he was absent-minded.
I wonder if the creators' paradoxical nature is the source of the cliché of the unpredictable or unreliable creative type?
Yes, creators are "both extroverted and introverted," they "tend to be smart yet naive at the same time," etc. (See the first article below.) But that doesn't make us flaky or indecisive. What do you think, friend? Hit reply to share your thoughts.
Today, I have some interesting things to share with you and a chance to win a great book—read on!
I will be back on the 26th. Until then, take good care and keep making stuff!
Thomas
The 10 paradoxical traits of creative people, according to psychologist Mihaly Csikszentmihalyi 🤔
Three weeks ago, Hungarian-American psychologist Mihaly Robert Csikszentmihalyi passed away. He was most known for recognizing and naming the concept of flow. This Open Culture piece lists ten attributes that Csikszentmihalyi discovered about people who spend their time creating.
RELATED: Flow: The Psychology of Optimal Experience by Mihaly Csikszentmihalyi
The trick to knowing when you're done with research 🙅‍♀️
Resistance to creation can take many forms. One of the sneakiest is research. « We need research! » I hear you say. And you're right. The problem is how much?
Photographers, here's how to honor and respect the color of every subject's skin 📸
I've always found it disturbing when (white) photographers use bodies of color as a prop, a source of contrasts (to sell white earbuds, etc.). In this piece for My Click Magazine, photographer Taylor Brumfield shares her secrets to accurately photograph and edit diverse skin tones, and why it matters.
Growing: Advice for writers ✍
Mason Currey has been sending his Subtle Maneuvers newsletter through Substack for a while. He was invited by the platform to share some advice for writers, and it's excellent.
RELATED: Daily Rituals: How Artists Work and Daily Rituals: Women at Work by Mason Currey.
Why going to sleep during the 'golden hour' could save your life 💤
Research has already shown that the hours we sleep before midnight are the most beneficial. Another study now reveals that 10-11 p.m. is a golden hour.
Success is attaining your dream while helping others to benefit from that dream materializing.
-Sugar Ray Leonard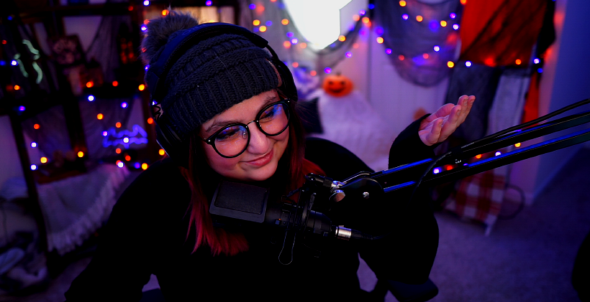 Twitch live-streamers say playing games is hard work 😰
With professional streamers like Richard Tyler Blevins, better known by his online alias Ninja, who was making $500,000 per month back in 2018 playing Fortnite on YouTube, it's not surprising that folks want to give streaming a try. This piece for the WSJ profiles a few personalities and gives us a glimpse of what the reality of streaming is in 2021.
RELATED: Is Twitch starting to fragment? This 24/7 livestream starring chefs is going after the $500 billion cooking market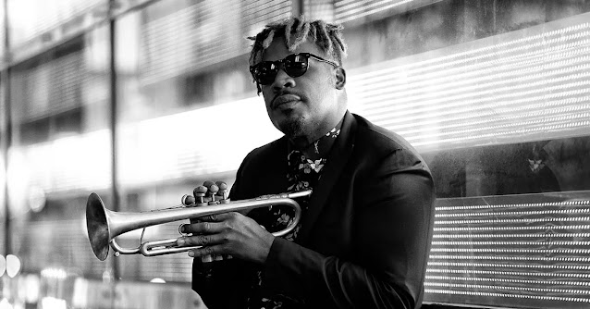 Grammy-Winning Musician Keyon Harrold: Racism and Work 🎺
In his HBR podcast, Porter Braswell explores how race impacts our careers and lives. In this episode, he interviews jazz trumpeter Keyon Harrold whose son was accused by a white woman of stealing her cellphone. You might remember seeing some video footage last December. Harrold talks about the response he received from the music industry.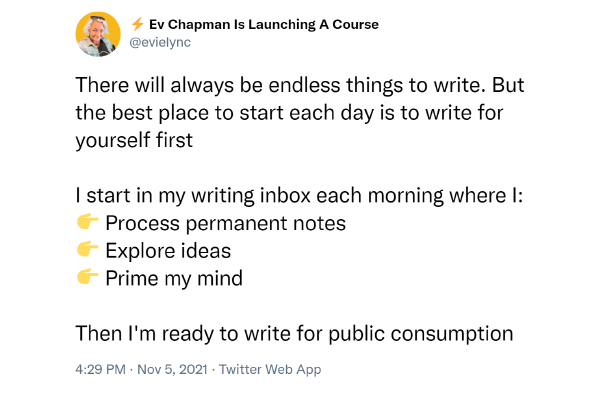 Twitter wisdom 🦉
In this tweet, Ev Chapman makes an important point: Use your fresh mind for your most important work! Permanent notes are a reference to the Zettelkasten…