Friend, here are 100 ways to improve your life 💯
H appy new year, friend! I mean it. I want you to have a beautiful, healthy, creatively fulfilling, and prosperous year.
What does a creatively fulfilling year look like, though? We all have a different answer to this question. For some, it's having enough time to create, while for others, it's making art without fear, finishing their novel, etc.
Another standard answer is the freedom to do what we want outside of our "compliant zone" (more on this below). Of course, as we turn our minds towards positive outcomes, let's remember that creating comes with periods of doubt, boredom, or frustration. These emotions are OK to feel and not necessarily negative. As Hamlet said: "for there is nothing either good or bad, but thinking makes it so." So let me add clarity to my 2022 wishes 😄
For my part, I started 2022 with a mild case of COVID, which is a bummer and also a fantastic box to check. I can now move on to the exciting things I have in store for you and me.
I'm resuming my biweekly schedule, and I'll see you on January 21. Take care, friend, and keep making stuff!
-Thomas
100 ways to slightly improve your life without really trying 💯
Yes, we're starting with a list, but it's a good one: A fun, inspiring read like the ones I like to share here. Some faves:
I wish baristas knew about #21.
Make #16 about your creative practice. Try doubling or tripling the time if you can.
What are your favorites, friend? Hit reply to let me know—this is my real email address!
RELATED: If you're curious you can read the January 2000 version of this article and see how the advice evolved.
Free Yourself from What You "Should" Be Doing 🚮
January is a rough month with folks trying to set their resolutions (reminder: You don't have to do it). But January might be a better time to assess something deeper and more pervasive: The reason why you're doing something. This article by Andy Molinsky focuses on compliance and is a good counterpoint to everything that's written about the Great Resignation. (Hit your HBR 2-article limit? You're welcome.)
RELATED: Designing Your Life: How to Build a Well-Lived, Joyful Life, by Bill Burnett, Dave Evans
Eleven Wild Guesses on How Blockchain and NFTs Will Actually Impact Musicians and Songs 🔮
NFT (Non-Fungible Tokens) are the latest tech thrown at the creative industry. Even though I think that they're just another scheme to extract value out of creators, I'm trying to understand what it means for them. There's always so much to learn from Ted Gioia's predictions, and I recommend his latest installment.
Podcasts and authors: Should you be a host or guest? 🎤
OK, this sounds like a silly question but I asked myself the same question in 2011 and I ended up building an award-winning magazine from scratch. So maybe there's a host in you?
That time Herbie Hancock hit the wrong chord 😱
Of course, hitting wrong notes happens, but it's Miles Davis' response to Hancock's mishap that really can teach us something (it starts around 2:53). I found this through a tweet by @frank_chimero.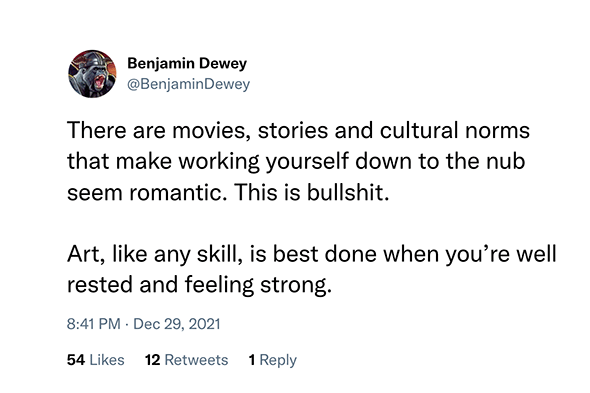 Twitter wisdom 🦉
Artist and musician Benjamin Dewey shared this thought following a thread on life as an artist. You will produce your best work when you sleep, eat, drink water, etc. It might sound boring but that's a big part of a successful creative life ¯\_(ツ)_/¯
📢 Fresh start with your inner critic
My inner critic workshop will take place on Jan 27 and Feb 3, over two evenings. Join me and start a new relationship with your inner critic in 2022.
The first three readers to use the coupon MAKESTUFF10 will get $10 off at checkout 👀
Sudowrite's AI wants to unblock you 🤖
I've already mentioned Sudowrite in a past newsletter, but I'm bringing it up again because it's now available publicly. There are many AI writers out there that produce mixed results. This tool is geared towards blocked writers by offering unexpected new directions in a story. Try it for free.
👉 If you're blocked and would rather get help from a human, let's talk!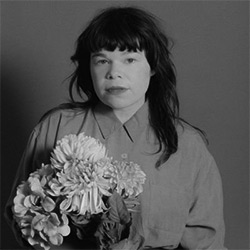 I just think it's important that artists and musicians work even between the creative spurts, that they try to force inspiration even if they think nothing good will come of it. It's good to keep the mind and imagination active and ready to receive.
—Samantha Crain (Choctaw musician)
Pexels 2022 Content Calendar 📆
If you're reading this newsletter, there's a good chance that you are a creator. As such, you should put your stuff out there (seriously). This content calendar by Pexels will help you find content and join relevant trends to post on social throughout 2022. It's really well done and completely free.
Bring your drawings to life by animating characters ✍️
This AI-based web app lets you upload and articulate simple stick figure drawings. Oh, and you don't have to be a kid to upload and animate doodles to get some relief from the current state of the world.