"Writing is a lonely job." (Stephen King)
In 2018, only 12% of participants won NaNoWriMo.
I get it: Life happens, and writing 1,667 words a day is a big commitment.
Yet, I'm ready to bet that the 88% who did not win NaNoWriMo were most likely writing alone.
Do athletes prepare and compete without any support? What about professional musicians? What about you?
What if you could join a group of writers working towards the same goal, supporting each other, under the guidance of a creativity coach?
NaNoWriMo will change you as a writer!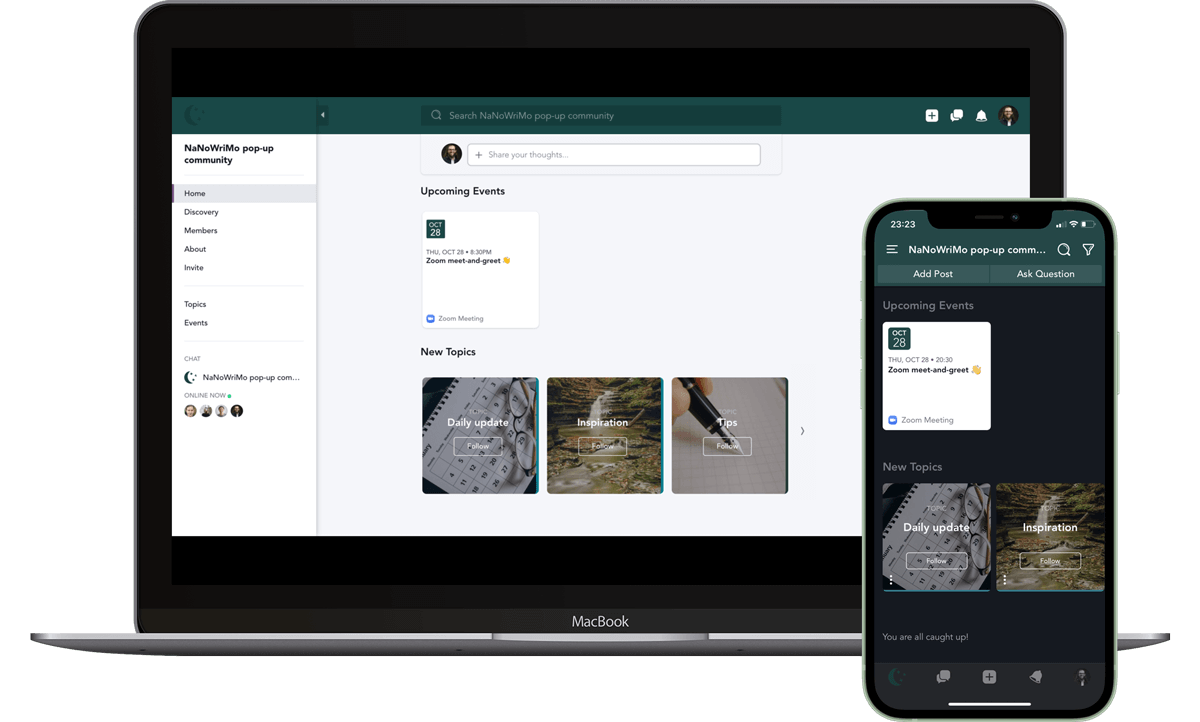 Get one daily update, wherever you are
Sometimes that's all it takes.
A simple: "How is it going today?"
Or: "You're rocking it!"
You have a novel to write so this community won't suck your time.
But it will be here to help and support you when you need it.
The pop-up community will be live for five weeks.
Zoom meet-and-greet

Let's meet before November starts! We will do a round of introductions, talk about the challenges you anticipate, and I will answer any questions you have before the activities start in the community.

NaNoWriMo starts

The activities in the community start now! My daily update could include:

Prompts to help you navigate the NaNoWriMo experience
Inspiration (quotes, anecdotes, etc.)
Pep talks
Overall wellbeing and self-care reminders

Of course, you'll also be able to ask questions to the group at any time and share quick updates in the chat.

First meditation + group coaching

Four days in, we'll meet on Zoom to sit for 20 min of mindfulness meditation before talking about challenges, momentum, blocks, etc. I will moderate the conversation to make sure that everybody feels included and heard.

Second meditation + group coaching

Another Zoom call starting with 20 min of mindfulness meditation. We will review and expand on any questions or topics brought up inside the community. It will be an opportunity to check on each other to see how things are going.

Third meditation + group coaching

We'll connect on Zoom a few days after the halfway point. We will sit for our now usual 20 minutes of mindfulness meditation and a group conversation on goals, momentum, reality checks, and more.

Fourth meditation + group coaching

Writing a novel is like running a marathon, but the last week will feel like a sprint. Our weekly 20 minutes of meditation might feel more necessary than ever! Our conversation will focus on what's next: How can we ensure that your NaNoWriMo experience is transformative, and what kind of writer will you be starting in December.

Let's celebrate 🎉

You've made it! Let's have a virtual celebration! Bring a snack, a hot drink, and let's end these five weeks on a festive note. I will moderate a conversation around the high and lows, the lessons learned, and how your experience could inspire and help others.
A private place to be more personal
You could go through NaNoWriMo without paying a penny: You could find a Discord, you could spend time on Twitter, etc.
In my experience, these settings are very noisy and can generate anxiety.
What I'm offering is five weeks of personal support in a moderated space. I'd like to say a more peaceful space, too.
No trolls. No competition. None of that.
Just genuine support and camaraderie.
Let's recap:
✅ A private online community, accessible through the Web, or iOS and Android apps
✅ Four guided meditations (an $80 value)
✅ Four coaching calls (a $279 value)
✅ A curated list of resources (a $19 value)
That is a grand total of $378.
I'm offering all of this for:
Hey, I'm Thomas, your coach and community host!
I am a creativity coach and a certified mindfulness meditation teacher.
I wrote a lot in my life, but it was notes—not words. As a trained composer, I faced the blank page (or Sibelius file) the same way a writer does.
I found ways to work through (or around) my blocks. Sometimes I failed and couldn't write.
What I was missing the most was support, and that's precisely what I'm offering in this pop-up community.
Your expertise is writing novels. Mine is making sure you do it.
Join me this November for five weeks that will change you as a writer.
Thomas

Frequently Asked Questions
What's your refund policy?
If this community is not for you, after all, cancel up to November 7, 2021, and receive a full refund. No questions asked!
Is this a Facebook group?
No, it's much more than this. It is completely ad-free, and separate from any social network. Once you get access to the community, you'll be able to attend events, watch archived streams, join a chat-style forum, or see the full list of members. I will also post content (tips, inspiration, etc.) every day throughout November.
What do you use for the live sessions?
All the live sessions will happen on Zoom and will be archived on the community. You can access these sessions on your computer or on a mobile device/tablet.
Is my payment safe?
I use Stripe as a payment processor and all traffic on my site is encrypted and secured by a valid SSL certificate. See that 🔒 next to the URL in your browser? 😄
Are you affiliated with NaNoWriMo?
I am not. I'm offering this community independently from what NaNoWriMo offers. I believe that it is a valuable complement to the great things they do.
Will there be any critique time? Am I expected to read what I write?
Because NaNoWriMo is about the first draft, we will not engage in any structured critique. If you want to share some of your writing at any point, I will make sure that other participants receive it in the spirit of deep listening. Otherwise, it's more about "writing with the door closed."
Tell me more about your zero-tolerance policy?
I will ban anyone who engages in racist, sexist, homophobic, or transphobic behavior. I will not issue a refund.
When will the group sessions happen?
The timeline above gives you the exact dates. I'm considering hosting them around 8:30 p.m. Eastern. I realize that it might not be ideal for folks across the pond, but all the live streams will be archived and hosted on the platform.
What is creativity coaching?
To keep it simple, it's getting the support you need to create and the tools and strategies you need to keep going.
Can I get help after NaNoWriMo?
Absolutely. I have a couple of openings in my creativity coaching practice. I'd love to keep on working with you. The first draft is a milestone, but there are many more!
What happens at the end of the five weeks?
I will dissolve the community. If it was helpful, I'll spin another one up in 2022!
Do you have more questions I could answer?
Reach out and I'll be happy to help!