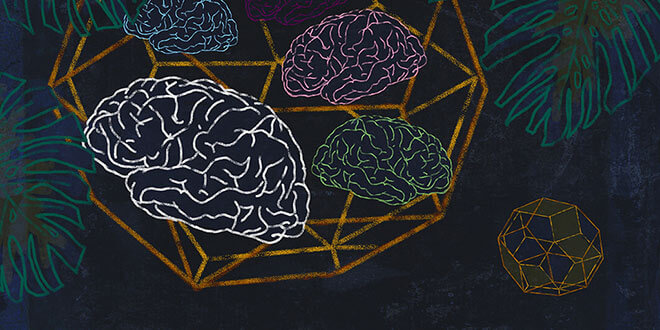 On Tuesday, April 25, I attended To Be Designed, a one-day virtual conference produced by Rosenfeld Media. Topics were AI and UX heavy—awesome. The speakers were stellar. My notes are copious and I will probably have to watch some presentations again to absorb ideas.
What are my key takeaways?
IoT is about service
Mike Kuniavsky's talk,  The UX of Predictive Behavior for the Consumer Internet of Things, was excellent. I loved the idea of seeing devices as "the avatars of the service." Connecting something to the internet is "easy… and pointless." Kuniavsky discussed business models briefly before diving into machine learning and the UX of predictive behavior: a discipline that sits at the intersection of IoT, machine learning, and UX design.
Kuniavksy gave a talk about this two years ago at Adaptive Path's UX Week:
Wearable tech is done wrong, but there's hope
Liza Kindred's talk reinforced my gut feeling: There's a lot of buzz and a lot of b.s. around wearable tech. I don't believe that sewing LEDs to a shirt very forward thinking, or useful. Also, slapping a sensor on a rubber bracelet does not make wearable tech, and believe me, I've been excited about wearable tech for a while.
Her nine mindful tech values represent a good framework to design wearable—and non-wearable—things.
Ethics is everybody's responsibility
Cennydd Bowles discussed Ethics for the AI Age. A lot of what he was saying echoed with Mike Monteiro's most recent articles: Ethics can't be a side hustle, or Ethics and paying rent.
He shared a set of ethical tests that can be applied to a lot of disciplines—not only AI—and debunked a few beliefs in tech: Is there such a thing as Internet exceptionalism? Does a public vs. private morality dichotomy exist? Etc.
Making things with Arduino is valuable
Building electronic prototypes using Arduino has been my main source of spare time fun for the past few months (I was inspired by this book). I've relied on laser cutting for two projects, and 3D printing for another. I've used servos, sensors (light, temperature, ultrasound), buzzers, controllers, etc.
When I prototype with Arduino, I get to use the engineering knowledge I acquired, a long time ago, and I combine it with my expanding coding skills. I like coming up with a simple idea and building something from hardware to software.
I think that this experience is valid and helps tackle (at a very modest scale) product design. I plan on thinking more about mapping out the entire ecosystem, or charting the ergonomics, both ideas introduced by Carla Diana in her talk (my favorite talk of the day).
I added the beep for fun. I'll correlate distance and pitch, next. #Arduino #HCSR04 pic.twitter.com/D8krfeeL9O

— Thomas Deneuville (@tdnvl) January 9, 2017
More virtual conferences please
As much I love traveling for work, it puts too much pressure on my family. Virtual conferences are an ideal way to get exposure to great ideas by great thinkers without leaving town. And my boss is awesome for approving this, too.
Image credit: cocktail hour, by yumikrum (CC BY 2.0).