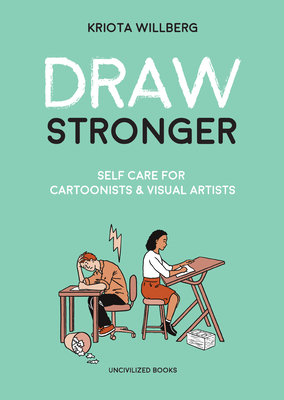 Draw Stronger: Self-Care for Cartoonists and Other Visual Artists
Why I recommend this book
This little book is written for cartoonists and can be used to help reduce the discomfort they experience due to drawing-related pain. It also provides guidelines for managing mild drawing injuries that don't require medical attention.
I participate in affiliate programs and I might receive a commission if you purchase a book I've recommended.
More books that I recommend
As a creative, sleep should be an important part of life, and I've compiled sleep tips for creativity to help you get the rest you need.
Solo retreats are an excellent opportunity to find (or renew) your focus, enjoy some quiet time, etc. Plan yours today using my blueprint.
What's the relationship between meditation and creativity, and can sitting for 20 minutes of meditation really make you more creative?
Creativity coaching is a process designed to help creatives identify—and work on— their challenges and habits. Learn more about it.
In his autobiography, Martin Short describes a self-evaluation he goes through every week to assess how his life is going, regardless of highs and lows.
Sleep is essential for your creativity, but it's not simple to get a good night's rest. Here are 6 products that promote better sleep.
For the first guided audio meditation that I'm offering on my site, I recorded a variation of the 61 points meditation taught by Swami Rama.
Among all the digital journaling apps that I researched while preparing my journaling course, one stood out above the rest: Diarly.
Learn about the Japanese concept of tsundoku, and feel better about your book-buying habit (tl;dr: it's OK to buy book you won't read).
Consider a crucial element when picking your next book: the why. Ask yourself the right questions, and stay engaged in your reading.