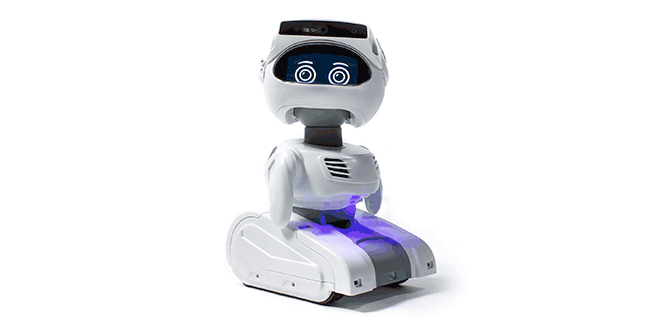 New robots: Magni, Misty, and Loomo
Every week or so, I see a new robotic system pop up in my social feed. I do a bit of research and digging around and move on to other things.
I finally decided to start writing about these robots, here, on my blog.
Two of these robots rely on the idea that users will adopt them because they can expand them and program them. It's an interesting bet. It's also interesting to note that by users, they mean developers.
Magni
Magni, by Ubiquity Robotics, is a ROS-based mobile robot with an impressive payload of 100 kg. It was developed to (according to the Indiegogo campaign) "empower the guy in the garage who just cannot do it all on his own."
The possible applications include: deliveries, service, security, etc. Obstacle avoidance is achieved through a sonar array (what looks like five HC-SR04 sensors). The drive system seems really robust (2 X 200W hub motors, differential drive) but the videos I've seen do not show how Magni behaves on bumpy surfaces/small steps.
Battery life is impressive with 8 hours of normal operation (10Ah batteries) and 24+ hours of normal operation with 32Ah Lead Acid Batteries.
Magni will come pre-configured with Roshub, a cloud-based platform to control ROS-enabled robots (I signed up for the beta; their demo video is worth watching).
What I like about Magni is the expandability: The board can accept other sensors, etc. The Indiegogo campaign even features a 3D time-of-flight camera.
The full retail price should be $2,100.
The kind team of Ubiquity Robotics even put a banana on one for scale, following my (half-serious) request on Twitter:
Banana for scale on Magni. pic.twitter.com/DTq76a9Ims

— Ubiquity Robotics (@UbiquityR) March 20, 2018
Misty
From the creators of Sphero, the best-selling BB-8™ toy robot, Misty by Misty Robotics "the personal robot you've been waiting for."
She* comes with a set of basic capabilities (face detection and recognition, mapping, locomotion, remote viewing, etc.) that can be extended through skills. The specs are really impressive with a STRUCTURE CORE 3D Depth Sensor by Occiptal, 6 capacitive touch sensors, 2 Hi-Fi speakers plus bass port, etc.

Programmers can get started thanks to a JavaScript API. Some sample skills are posted in a GitHub repo.
The final retail price will be at $3,200 but it comes at a 50% discount until the end of May.
The price tag is high and if one looks at the competition in the home robot market, it's hard to predict Misty's success. In comparison, Jibo is reasonably priced at $899 but I have been receiving a stream of $200 offers to purchase one. Jibo comes from a very talented team, relies on skills, integrates with IFTTT, has character, etc. It is an excellent product but I don't know if sales are following (the WSJ's first review was brutal).
Loomo
The last new robot that I've seen is Loomo by Segway Robotics. Yes, Segway like… a Segway, and it's pretty clear when you see a photo of it. Presented at CES 2018, Loomo raised more that $1M through an Indiegogo campaign. It's not surprising when one realizes that this is a social robot that one can ride (up to 22 miles per charge)! Loomo can also follow and record video—a feature that's been popular among drones.
The final retail price, after the Indiegogo promotion, will be $1,799.
—
* Ian Bernstein, founder and head of product, refers to it as she.