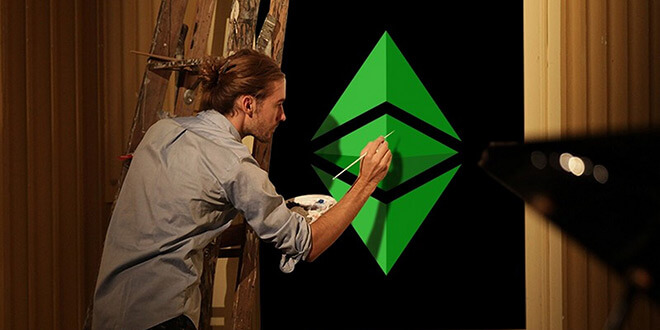 How to start selling your digital art with blockchain in minutes
The current pandemic has meant little to no foot traffic for art galleries. Some have pivoted successfully to digital like Gagosian, who closed a multi-million dollar deal thanks to their "Artist Spotlight" online viewing room series. Christie's is not doing that bad, either.
But what about artists that are not represented by blue-chip galleries? A robust ecosystem of digital marketplaces makes it possible to sell limited digital art editions (or are they multiples?) to a new kind of collector, thanks to blockchain.
How does it work?
The idea is simple: artists post their digital art editions (video, animation, illustration, photography, or painting) on a marketplace. They can either decide on the price or remain open to offers. It is up to them to decide how limited the edition is.
Collectors visit the marketplace and purchase a piece, like on any eCommerce site. These editions can be enjoyed on various screens, from casting to a TV, to a web browser, or through mobile apps.
But selling is not the only model. Sedition offers Art Stream, a Netflix-like subscription system that allows subscribers to display up to 12 artworks with no watermark, and without owning them. It is marketed as a try-before-you-buy model.
Ownership
What ownership means varies from marketplace to marketplace, and you might disagree with their definition. On MakersPlace, for example, the art collectors own lives in their Ethereum wallet (if they paid in Ether) or their MakersPlace wallet if they pay by credit card. On Sedition, collectors cannot download artworks to their personal computers; they only live in their Vault.
But let's pause for a second. Did I just mention Ethereum? What does digital art have to do with blockchain technology? A lot, actually, and that's what fascinating.
Blockchain and authenticity
Most marketplaces issue certificates of authenticity—something to be expected from an art dealer. Some platforms go a step further, and that's where it gets really exciting: They leverage the blockchain to certify the authenticity of a piece of digital art.
A blockchain is "a publicly accessible online ledger, that is not owned by any central authority." From the creation and authenticity of the edition to the sale and ownership, everything can be certified by the blockchain: All of these operations appear publicly in the ledger. For example, this is what a proof of authenticity looks like on MakersPlace:
If you are curious, see the full transaction details.
An artist doesn't have to sell through a marketplace to leverage blockchain proof of authenticity, though. Verisart offers this service independently, and their free plan would work well for an individual artist, for instance.
Getting started with digital art marketplaces
Buying or selling on these platforms usually requires a membership. If they leverage blockchain technology, having a digital wallet is helpful, but you could also pay or get money from sales through PayPal, for example.
Here is a list of six digital art marketplaces powered by blockchain:
How will your art be displayed?
Displaying digital art is a new challenge for most collectors.
Sedition sells a $400 frame where you can slide your iPad or Samsung tablet, to come a bit closer to the traditional way of displaying art.
A digital canvas like the Meural Canvas II (powered by Netgear) is another way to put digital art on your walls. It beats a TV but powering it could require some drywall and electric work to hide the power source as much as possible.
The aspect ratio is fixed, and you'd have to be comfortable with the cropping applied to your art by the embedded software (as a commenter noted on a TechCrunch review of the Meural: "I'm pretty sure Monet didn't paint in 16:9.") Experiment with platforms and screen sizes to see what works for you.
Read up
This new ecosystem of platforms is very exciting, and something you should consider if you're building your online presence as an artist.
But the moment there is an opportunity for speculation, there is also a risk for the artist. Read the terms of service carefully to learn about how they handle intellectual property, fees, refunds, etc.
Let me know in the comments if you already sell your work through one of these sites, or if you're considering it. I'd love to visit your page. If you've enjoyed this article, I send a newsletter about creativity twice a month 👋